Kennesaw State University Appoints Dr Will Hakes
Dr. Will Hakes appointed by Kennesaw State University's Analytics and Data Science Institute
PRESS RELEASE KENNESAW, GA. (January 16, 2018) –The Analytics and Data Science Institute at Kennesaw State University announces the appointment of Dr. Will Hakes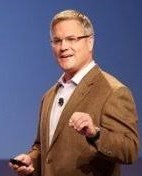 Dr. Hakes brings over 20 years of experience as an established and respected entrepreneur, speaker, and thought leader in advanced analytics, most recently serving as a Managing Director of the KPMG Global Analytics practice. He was the Co-Founder and CEO of Link Analytics, which was acquired by KPMG in 2013. His focus has been on the complex interaction between artificial intelligence and Big Data and how this creates new opportunities and unforeseen risks for enterprises – big and small. Throughout his career, Dr. Hakes has worked with technical teams to help them become proficient in the translation, communication and framing of complex data-centric solutions, enabling them to drive more value within their organizations. He is currently principle at WBH Capital, and he serves as an analytics advisor on multiple boards of privately held companies.
Within the Analytics and Data Science Institute, Dr. Hakes will collaborate with the Analytics and Data Science Ph.D. program and conduct seminars on emerging analytical applications to solve real-world business problems.
The Analytics and Data Science Institute facilitates and supports advanced study and research in the area of data science and advanced analytics. The Institute provides training and graduate study grounded in a rigorous curriculum that is responsive to current societal needs. Areas of focused research include Education, Financial Services, Manufacturing and Health Care.